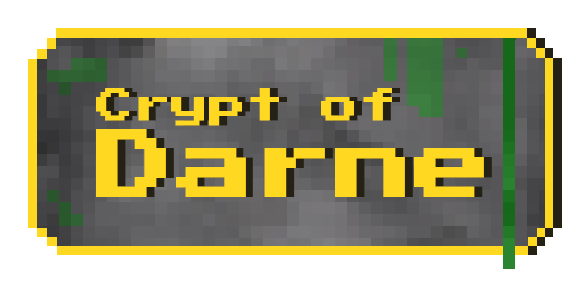 Crypt of Darne
A downloadable game for Windows
"You enter the Crypt of Darne and you're looking for a specific gem. Will you survive?"
Crypt of Darne is a free roguelike-ish dungeon delving game, where you make a character out of few race-class combinations and explore a crypt, trying to find a specific gem. You'll know it when you see it, but it is hidden deeply in the crypt. Good luck!
---
This is a "roguelike" I began making for Games Made Quick 2017 gamejam, however I wanted to finish it so I continued working on it. I wouldn't really call it a fully fledged roguelike though, it's more a simple dungeon delving game with procedurally generated dungeons and RPG elements.
As of version 1.0.0, the game is now pretty much done. If you come across any gamebreaking bugs or annoyances, tell me and I'll see what I can do. There is also two PDF's, one for backstory and one for explaining playable races. Hope you like them!

If you manage to finish the game, have nice high score to show off, come across a bug or anything like that, let me know here on itch.io. You can find links for that down below.
Also, if you like the game and/or have any feedback, join my Discord server! https://discord.gg/PZkYZRx

---
Keys:
Arrow keys/keypad to move, home, pgup, pgdown, end keys to walk diagonally.
H keys opens help screen.
I opens inventory for using items
D opens inventory for dropping items
G picks up items
Z climbs down stairs
No mouse needed, however, you can use it to point objects and see what they are. The name of the object will appear over the text section of the HUD.
The readme.txt file has more info about keys and some basic stuff. Can't be played in fullscreen, however if you by some magic trickery manage to make the game fullscreen, it will make your Windows taskbar act weird. Smaller screens (1366x768 and below) can barely fit the whole game in screen because of the tilesize.

About tiles, you can't change their size, but you can modify them, so yes, you can create your own graphics if you wish! Just edit the terminal16x16_tiles.png file and save it with the same name. Remember to take a backup!

---
You can donate me some money if you wish. I won't lie, that money will most likely go to buying more games. :D However, you don't have to, the game is completely freeware, so feel free to share it to your friends!

Game devlog (+ other stuff): https://bitkselblog.wordpress.com/

BIG THANKS to my fiancee Jenny a.k.a tecsiederp for supporting me and making the background art for main menu and banner, my friends and family who cheered me on, the people on my Games&Dev discord server, r/roguelikedev (both subreddit and the discord server that can be found from there), and the super great tutorial that helped me to make this thing on roguebasin.com.
I hope you enjoy playing Crypt of Darne and I would love to hear feedback, ideas, critique, whatever. <3
Download
Click download now to get access to the following files:
Darne 1.0.0 - DONE! .. For now!
2 MB
"Notes on Darne, by Xil" - Backstory pdf
348 kB
"The Common Folk, by Conroy Badar" - Races pdf
756 kB